how to use green screen in kinemaster
Kinemaster is a very popular video editing app for smartphone users, but users who need to learn more about video editing still want to do video editing using kinemaster. There are many features of a kinemaster. One of the famous video editing features is a kinemaster green screen feature. If you have recorded your videos on a green screen and want to change the background of the video so you are in the right place. In this article, we will discuss how to activate the green screen of the kinemaster app to remove any video background.
It's not very difficult to do this. There are many tutorials on Youtube explaining about features of kinemaster and How it works, but still, if you need to learn how to use this green effect feature of kinemaster, don't worry. After reading this article, you will get all information about the features and methods to use this feature, and you will get amazing tips and tricks which we have covered for you in this article.
Use green screen in kinemaster

It may be complicated with the new features of Kinemaster to activate a green screen, but worries not, we have got to cover everything. After reading this, you will get the hang of things.
One important thing before we go ahead is that it is not possible to use the chroma key effect in the top layer of the video, so always add a layer before it. When you do that, you are ready to use this green screen.
Here are Some steps!
Export the Layers then add the green screen clips under the background layer.
Click on the clips to select them.
Then, activate the chroma key on the menu's right side.
After this, if you want to adjust your settings, this is the perfect time to do that. The best thing about the kinemaster application is that it allows you to customize every detail of your video. It will help you to make your videos more unique. You can customize the brightness and darkness of your green screen so your background image can be clear and unique.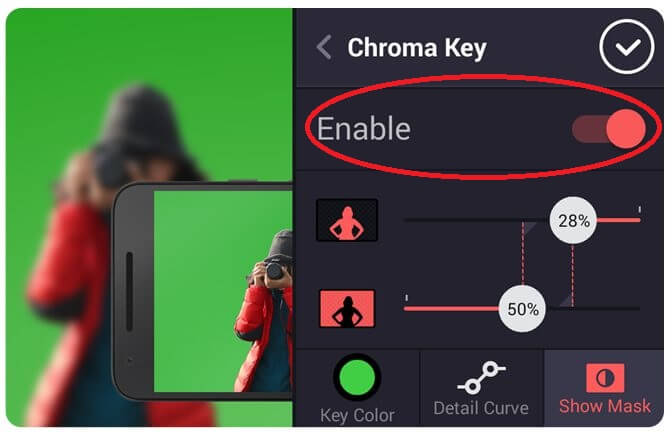 How to Prevent Ghost Face Effect
Your audience on social media or YouTube sees a double image of you, also called a fleeting moment. If you are a kinemaster video editing application user, you may notice one thing at a time when you want to merge one or two clips, and yes, if your clip overlaps for even a millisecond, this will cause a ghost face effect.
If you do not want to fade shadow following your head while you're talking so, in this article, we have a helpful guide for you on How to prevent the ghost face effect.
It's very simple. You have to do the slightly longer gap between your video clips but remember; it can cause the image to disappear. Let's make it easier. All you have to do is create new projects in your kinemaster for the green screen effect, and even you can also try transitions for your videos. This way will be the best way to make your videos and shows your videos more unique. Best of luck with it
When all is done and save and export it. You will have a background layer on top when you create your video. Now it's put the exported file into this fill-in layer. This is the best way to prevent images and shadows now. Make your videos more unique using the green screen effect.
Green Is More Fun
Now you can easily use this feature and make your videos more unique. While doing this, make sure you use it while you're in the top layer! This guide on How to use the green screen effect in kinemaster will help you a lot and will help you to make your video editing overall more professional and unique.
Is Chroma Key the Same Thing as Green Screen?

The simple answer is that the green screen is the background that allows you to add other images or anything in your video, and the point is this green does not have to be green as long as it is still monochromatic. People use this because it is furthest away from human skin tones.
People use Chroma key technique for removing background from the video is a famous chroma key technique of kinemaster. Yes, it is hand-to-hand with green screen backgrounds. This chroma key will help you set up all the video backgrounds you want to change.
Chroma Key Basics in KineMaster
Kinemaster is the best video editing app, with all features for your editing and green screen effect. As a beginner, this process may not be easy and confusing. If you need any help with this, leave a comment on this post, and we will get back to you soon.